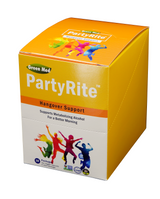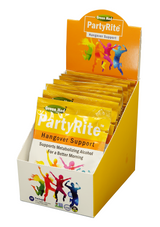 PartyRite is a 100% natural hangover support remedy that makes the party rite.
Supports metabolizing alcohol
Protects & detoxes liver
Designed for a better morning
All natural ingredients with no side effects
Compact individual packs convenient for on the go
ACTIVE INGREDIENTS
Hovenia Dulcis (Japanese Raisin Tree): is a source of dihydromyricetin and has traditionally been used as an anti-alcohol herb and hangover cure. Many studies have noted that, when taken during drinking, it can reduce circulating levels of alcohol.
Pueraris: is rich in puerarin, alkaloids and calcium and other trace minerals and 17 kinds of amino acids. It can break down the toxicity of acetaldehyde, prevent alcohol on the inhibition of brain function, inhibition of gastrointestinal absorption of alcohol, and promote blood metabolism and excretion of alcohol.
Take 2 capsules after alcohol consumption, or use as directed by your healthcare professional.
Consult your healthcare professional before use if you are pregnant, nursing, taking medication or have a medical condition.
KEEP OUT OF REACH OF CHILDREN. Store in a cool, dry place. 
DO NOT USE IF PACKAGE IS BROKEN OR MISSING.
----- 
INGREDIENTS:
Hovenia Dulcis Extract, Evodia Fruit Extract, Ginger Extract, Atractylodes Extract, Kudzu Root Extract, Licorice Extract.
We are confident that you'll love our natural, herbal products, so much so that we will provide you a full refund if you are dissatisfied for any reason.*
Plus, you are not required to ship back the item, so feel free to share it with a friend or give it to someone who could use it!
All you have to do is email us at support@greenmed4u.com within 30 days of receiving your order to get your money back.
*We reserve the right to refuse any refund if abuse is suspected.
Customer Reviews
Very good product!
I'm not a big drinker, but had a few glasses of wine at a friend's house, with dinner while celebrating their Greek Easter. Normally I'd feel very sluggish and basically icky the day after drinking at all, but I used this Party Rite, and felt as good as ever the following day! I'll be taking it again next time I'm at a similar get together! Delivered just as it said it would.