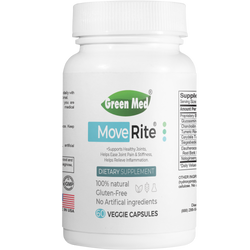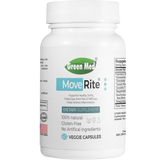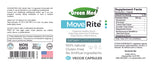 Green Med MoveRite- Healthy Joint
MoveRite from GreenMed is a perfect combination of Western and Eastern (India & Chinese) Medicines help to promote joint health and relieve inflammation.
Promote joint health
Relieve inflammation
Ease joint pain and stiffness
ACTIVE INGREDIENTS
Turmeric: In India's traditional Ayurvedic medicine, Turmeric symbolizes prosperity. It is used as an anti-inflammatory for variety of ailments and is considered a whole-body cleansing herb. An excellent article in The Wall Street Journal documents the rise of Turmeric extract as a natural alternative to arthritis medication. Studies suggest that a chemical found in turmeric—called curcumin—may have anti-inflammatory, anticancer and antioxidant properties. Potential benefits may include gut health, boosted immunity and improved diabetes risk factors. Perhaps even prevention and treatment of Alzheimer's disease. The U.S. National Institutes of Health is funding studies of curcumin and its ability to prevent acute respiratory distress syndrome, liver cancer, and post-menopausal osteoporosis.
Glucosamine: A basic component of joint cartilage and its surrounding fluids, Glucosamine is used to prevent cartilage degeneration and ease arthritis.
Chondroitin: A component of cartilage Chondroitin has been used effectively in treating osteoarthritis. Together, Glucosamine and Chondroitin may also affect the underlying bone structure in affected joints. With the growing incidence of osteoarthritis among adults (see Additional Information), Americans are looking to ease the malady's painful effects and prevent bone degeneration.
Based on 2010–12 surveys from the Centers for Disease Control, 52.5 million (22.7%) of adults reported that they have doctor-diagnosed arthritis. Almost 10% of adults reported that their activity is limited by pain and stiffness due to arthritic. The future forecast shows those figures will only rise: with 67 million adults (25%) being diagnosed by the year 2030; perhaps 25 million reporting arthritis-attributable activity limitations.
Even common daily activities can be difficult for arthritis sufferers: standing up from a seated position or bending to pick up something from the floor. Walking, climbing stairs, even grasping small objects like a fork or a pencil—all can be challenging and painful. An aging population means more people with joint disabilities and poorer quality of life.
Physical exercise, stretching and weight loss have all been shown to benefit arthritic joints. But we are increasingly turning away from pain medication to time-tested remedies to ease inflammation or prevent degeneration in the first place.
MoveRite combines medicines from Chinese and Ayervedic traditions working together to promote joint health and relieve inflammation—for improved mobility to stay active longer.
Take 1-2 capsules 2 times daily with a meal, or use as directed by your healthcare professional.
Consult your healthcare professional before use if you are pregnant, nursing, taking medication or have a medical condition.
KEEP OUT OF REACH OF CHILDREN. Store in a cool, dry place. Keep bottle tightly closed.
DO NOT USE IF SEAL IS BROKEN OR MISSING.
----- 
INGREDIENTS:
Glucosamine, Chondroitin, Turmeric Root Extract, Corydalis Yanhusuo Tuber Extract, Siegesbeckia Extract, Eleutherococcus Sessiliflorus Root Bark Extract, Notoginseng Extract.
We are confident that you'll love our natural, herbal products, so much so that we will provide you a full refund if you are dissatisfied for any reason.*
Plus, you are not required to ship back the item, so feel free to share it with a friend or give it to someone who could use it!
All you have to do is email us at support@greenmed4u.com within 30 days of receiving your order to get your money back.
*We reserve the right to refuse any refund if abuse is suspected.