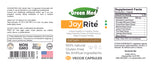 Green Med JoyRite- Natural Aphrodisiac
JoyRite is a 100% natural aphrodisiac remedy that fosters a healthy libido and increases vitality.
Enhance desire
Increase vitality
Improve performance
Promote healthy libido
ACTIVE INGREDIENTS
Epimedium Leaf: According to Herbal-Supplement-Resource.com, Epimedium products have been used for centuries in traditional Chinese Medicine to treat male sexual disorders and have benefits for postmenopausal women as well. The active ingredients in Epimedium may also limit the potential development of cancerous tumors in organs and skins.
Yohimbe Bark: Yohimbine, the active ingredient in Yohimbe Bark, is an alkaloid with stimulant and aphrodisiac effects.It has been used for the treatment of common sexual dysfunction problems in both women and men, including:
Erectile dysfunction (ED).
Sexual problems caused as a side effects of antidepressant drugs (called SSRIs).
Maca (Peruvian Ginseng):
 Maca has been harvested and used in the Andean Mountain region for centuries. Peruvians have used it as food and medicine, to promote endurance and improve energy, and to enhance vitality, sexual virility and fertility.
A 1999 study in the Journal of American Medical Association showed that 31% of men and 43% of women suffered some form of sexual dysfunction in the past year. Lack of desire, erection problems, premature ejaculation or pain during intercourse are all common symptoms of sexual dysfunction in men and women. But according to therapist Barry McCarthy, loss of libido or inhibited sexual desire stresses a marriage more than any other sexual dysfunction. Not surprisingly, many would-be romantics turn to herbal remedies for help.
JoyRite 100% natural supplements combine Eastern and Western remedies formulated to enhance desire and improve sexual performance.
Take 1-2 capsules one hour before bedtime, or use as directed by your healthcare professional.
Consult your healthcare professional before use if you are pregnant, nursing, taking medication or have a medical condition.
KEEP OUT OF REACH OF CHILDREN. Store in a cool, dry place. Keep bottle tightly closed.
DO NOT USE IF SEAL IS BROKEN OR MISSING.
----- 
INGREDIENTS:
Epimedium Leaf Extract, Curculigo Rhizome Extract, Cynomorium Stem Extract, Morinda Root Extract, Lycium Fruit Extract, Fo-ti Root Extract, Yohimbe Bark Extract, Maca Extract.
We are confident that you'll love our natural, herbal products, so much so that we will provide you a full refund if you are dissatisfied for any reason.*
Plus, you are not required to ship back the item, so feel free to share it with a friend or give it to someone who could use it!
All you have to do is email us at support@greenmed4u.com within 30 days of receiving your order to get your money back.
*We reserve the right to refuse any refund if abuse is suspected.