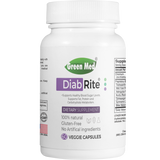 Green Med DiabRite- Glucose Metablism
Natural ingredients promotes:
Glucose metabolism*
Maintenance of pancreatic functions*
Green Med is proud to present DiabRite. A revolutionary new product with a 100% natural formula specifically designed for diabetes symptoms. DiabRite can help you maintain blood sugar levels within normal ranges. This innovative formula blends traditional natural herbs including Gymnema Sytvestre extract, Bitter Melon extract and trace minerals that can safely regulate blood glucose levels.
ACTIVE INGREDIENTS
Gymnema Syltvestre (Gurmar): Gymnema Syltvestre has been used for treatment of diabetes for over 2000 years in India. Several researchers have reported it may actually help to repair and regenerate the pancreas beta cells that are responsible for the secretion of insulin. Gymnema Syltvestre has come to be known as the "Sugar Destroyer" in the traditional Indian system of (Ayurvedic medicine). It has also been used to aid urination and digestion. Gymnema Syltvestre helps lower blood sugar and transform glucose into energy.
Bitter Melon: Studies have shown that Bitter Melon extract can effectively lower blood glucose level and have a hypoglycemic effect on diabetic patients. Components of bitter melon extract appear to have structural similarities to animal insulin, and it's believed to be more effective than tolbutamide (a modern hypoglycemic drug). Therefore, Bitter Melon extract a perfect dietary supplement choice for diabetic patients. Laboratory trials have shown that Bitter Melon may also improve immune cell function, and thus may be beneficial to cancer and HIV patients.
Chromium (Picolinate): Chromium is an essential mineral that humans require only in trace amounts but it plays an important role in controlling insulin and blood sugar levels. Recent studies showed that adequate intake of Chromium can help to lower cholesterol, stabilize blood sugar levels and improve insulin sensitivity.
The DiabRite formula combines both Easter and Western medicines that can help to regulate blood sugar, especially for people with type 2 diabetes.
Diabetes is a metabolic disease in which a person has high blood sugar levels. In North America, diabetes is the third deadliest disease next to heart attacks and cancer. Type 1 diabetes is genetic, and patients must use insulin injections and/or medicine on a daily basis to control their blood sugar. People with type 2 diabetes (also called non–insulin-dependent diabetes) often can control their blood sugar through maintaining an active lifestyle and healthy diet. The warning signs of diabetes include higher-than-normal average blood sugar (prediabetes), metabolic syndrome and insulin resistance.
The complications of diabetes can be severe, including eye damage, kidney damage, amputation of toes and feet and cardiovascular disease (heart attack and stroke). To live a healthy and long life, it's very important to control your blood sugar.
GreenMed presents its revolutionary new DiabRite supplement that helps maintain blood sugar levels using 100% natural ingredients. Gymnema Sylvestre, Bitter Melon and trace minerals work together to safely regulate blood glucose levels for people with type 2 diabetes or prediabetes.
Take 1-2 capsules 2 times daily with a meal, or use as directed by your healthcare professional.
Consult your healthcare professional before use if you are pregnant, nursing, taking medication or have a medical condition.
KEEP OUT OF REACH OF CHILDREN. Store in a cool, dry place. Keep bottle tightly closed.
DO NOT USE IF SEAL IS BROKEN OR MISSING.
----- 
INGREDIENTS:
Chromium, Trichosanthes Root Extract, Wild Yam Rhizome Extract, Astragalus Root Extract, Kudzu Root Extract, Ophiopogon Root Tuber Extract, Gymnema Leaf Extract, Bitter Melon Fruit Extract.
We are confident that you'll love our natural, herbal products, so much so that we will provide you a full refund if you are dissatisfied for any reason.*
Plus, you are not required to ship back the item, so feel free to share it with a friend or give it to someone who could use it!
All you have to do is email us at support@greenmed4u.com within 30 days of receiving your order to get your money back.
*We reserve the right to refuse any refund if abuse is suspected.
Customer Reviews
08/14/2019
PAUL H.
United States
My order receieved well as expected, thank you.
So far so good, still using it and will find out more later on. 8-14-2019 Paul Hsieh
04/29/2019
George Enrique
Great product worth every penny of my money
I have type II Diabetes for years and had tried many ways to control my blood sugar level but none of them really works, until I got one bottle of DiabRite from my friend. I can feel the difference right away. I used it for one week and my blood sugars are getting lower at a steady rate. I don't feel any discomfort and I am eating regularly. I just love this product. It really helped a lot and now my blood sugar is getting normal. It's a great product, worth every penny of my money.