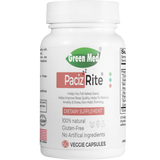 Green Med PacizRite - Calm Better Sleeping Quality
PacizRite helps relieve anxiety, stress, and improves your sleep quality.
ACTIVE INGREDIENTS
Astragalus Root: Boosts immune system, tonifies energy, and helps sedation
Spine Date Seed: Calms you, reliefs restlessness, and helps you to fall asleep faster
Ginseng: Tonifies energy, enhances stamina while soothing nerves
This combination of herbs can help you feel at peace, and get a good night's rest.
Take 1-2 capsules one hour before bedtime, or use as directed by your healthcare professional.
Consult your healthcare professional before use if you are pregnant, nursing, taking medication or have a medical condition.
KEEP OUT OF REACH OF CHILDREN. Store in a cool, dry place. Keep bottle tightly closed.
DO NOT USE IF SEAL IS BROKEN OR MISSING.
----- 
INGREDIENTS:
Turmeric Root Extract, Astragalus Root Extract, Bai-zhu Atractylodes Rhizome Extract, Jujube Seed Extract, Poria Sclerotium Extract, Ophiopogon Root Tuber Extract.
We are confident that you'll love our natural, herbal products, so much so that we will provide you a full refund if you are dissatisfied for any reason.*
Plus, you are not required to ship back the item, so feel free to share it with a friend or give it to someone who could use it!
All you have to do is email us at support@greenmed4u.com within 30 days of receiving your order to get your money back.
*We reserve the right to refuse any refund if abuse is suspected.